Clinical Services
Department of Orthopedic Surgery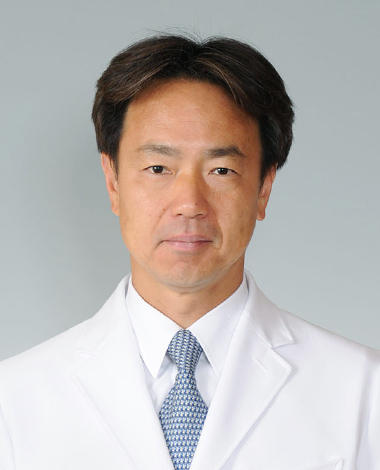 The Department of Orthopedic Surgery diagnoses and treats all musculoskeletal disorders.
We use dynamic diagnostic methods to treat arthrosis in the lower limbs, which may cause dysbasia. To understand the patient's condition and decide on an essential treatment method, we use an acceleration measurement device and a three-dimensional analyzer. As a rule, coxarthrosis in patients under 40 is corrected by osteotomy to preserve the joint. We have had favorable results in the treatment of acetabular dysplasia of the hip joint, which is the cause of coxarthrosis. We perform acetabular osteotomy through a tiny cut on the skin, causing less stress to the patient. In 2004, this procedure was recognized with an award from the American Academy of Orthopedic Surgeons.

For end stage coxarthrosis in the elderly, we replace the entire hip joint with an artificial hip joint. Most patients start to practice standing and walking a few days after the operation, enabling them to start walking as soon as the pain disappears. We also perform artificial hip replacement surgery through a tiny cut on the skin. For osteoarthritis of the knee, a high tibial osteotomy is performed and it is now possible to achieve reliable bone union as well as the restoration of painless knees. We are also actively treating sports disorders and injuries, with favorable results. In particular, for injuries of the cruciate ligaments in the knee as well as disorders of the shoulder joint, we perform reconstructive surgery based on arthroscopic findings for an accurate understanding of the patient's condition, helping athletes make an early return to sports.

Arthroscopic Bankart repair for recurrent shoulder joint dislocation prevents such dislocation from recurring.

In the treatment of malignant soft tissue tumors, we try to salvage as much of the limb as possible and are working to improve the survival rate.

Our experts, experienced and knowledgeable in spinal disease, hand and foot surgery, rheumatoid arthritis, and pediatric orthopedics, provide careful and thorough treatment. Our department has a bed capacity of 80, and our staff are devoted to achieving early rehabilitation of patients after surgery.

Outpatient service is available every morning except weekends and public holidays. Up to 9 surgeons are available to perform examinations on weekdays. At each stage of the diagnostic process - examination, treatment plan, recuperation, and so on - we focus on informed choice and informed consent.

Treatment based on a global point of view is our motto, and we devote ourselves to basic and clinical studies every day, and actively participate in international conferences, study abroad, and receive training overseas.
Monday
Tuesday
Wednesday
Thursday
Friday
AM

Shoulder




Foot




Rheumatism




Spine

Shoulder




Foot




Knee




Rheumatism




Elbow

Hip




Knee




Rheumatism




Hand & Elbow

Tumor




Rheumatism




Spine




Hand

Shoulder




Tumor




Knee




Elbow

PM

Foot




Rheumatism




Spine




Osteoporosis

Hip

Pediatric




Knee




Rheumatism




Hand & Elbow

Spine

Shoulder




Elbow
STAFF
SPECIALTY
Key words
Takuaki Yamamoto, M.D., Ph.D.
Hip Surgery
Acetabular dysplasia, Osteonecrosis, Osteotomy, Total hip arthroplasty, Sports surgery
Teruaki Izaki, M.D., Ph.D.
Shoulder Surgery
Shoulder surgery, Sports surgery, Arthroscopy, Arthroplasty
Ichiro Yoshimura, M.D., Ph.D.
Foot & Ankle Surgery, Arthroscopic Surgery
Ankle, Foot, Sports, Arthroscopy
Jun Nishio, M.D., Ph.D.
Tumors
Musculoskeletal oncology
Akira Maeyama, M.D., Ph.D.
Knee Surgery, Rheumatism
Arthroscopy, Sports surgery, Foot surgery
Koichi Kinoshita, M.D., Ph.D.
Hip Surgery
Arthroscopy, Total hip arthroplasty, Sports surgery, Osteotomy
Tomohiro Kobayashi, M.D., Ph.D.
Knee Surgery
knee surgery, Sports surgery, Trauma
Jun Tanaka, M.D., Ph.D.
Spine
Spine
Tomonobu Hagio, M.D., Ph.D.
Foot & Ankle Surgery, Rheumatism
Ankle, Foot, Sports surgery
Tetsuya Sakamoto, M.D., Ph.D.
Hip Surgery, Trauma Surgery
Arthroscopy, Total hip arthroscopy, Trauma
Kunihide Muraoka, M.D., Ph.D.
Hand Surgery, Rheumatism
Hand, Elbow, Trauma,Rheumatism, Sports surgery
Satoshi Miyake, M.D., Ph.D.
Shoulder Surgery
Shoulder surgery, Sports surgery, Arthroscopy
Teruaki Shiokawa, M.D.
Spine
Spine

Hajime Seo, M.D., Ph.D.

Hip Surgery, Trauma Surgery

Arthroscopy, Total hip arthroscopy, Trauma

Tetsuro Ishimatsu, M.D., Ph.D.

Knee Surgery

Knee surgery, Minimally invasive surgery, Sports surgery, Trauma

Shizuhide Nakayama, M.D.

Tumors

, Knee Surgery

Musculoskeletal oncology, Knee surgery, Minimally invasive surgery